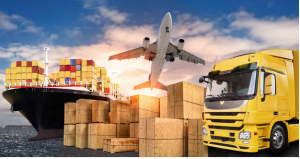 The role of a freight forwarder is to act as an intermediary between transport service providers or shipping companies and an individual or company that needs to ship their goods. While forwarders do not carry out the transportation of the goods, they offer a variety of transport options, including sea/ocean freight, air transport, road transport and rail transport.    
What Are the Basics of Freight Forwarding?
So what exactly is involved in freight forwarding? How does it work?
Freight forwarders are generally responsible for consignments up until they arrive at their destinations. They play an important role in triangular operations in global trading. They collect and consolidate cargo less than a truckload or container load. Then, they seek common carrier services to transport the consolidated goods. In this way, goods can be transported more efficiently, which reduces transport costs.
The goal of freight forwarding is to essentially move goods cost-effectively and efficiently while maintaining a high standard of quality. Freight forwarders' logistics expertise ensures on-time delivery. Freight forwarders negotiate the best rates through their trusted contacts with carriers and partners involved with different modes of transport. Different offers are compared, and the fastest, cheapest and most reliable route is chosen. They ensure that all the necessary variables are taken into consideration.
It takes a great deal of time and effort to arrange international shipping. Partnering with a freight forwarder saves you from worrying about the transportation aspects of your goods. The freight forwarder will take care of the details and keep you updated throughout the process. As soon as a deviation from the plan occurs, they come up with solutions to the situation promptly.
A forwarder's expertise in regulations, paperwork requirements, transportation rates and banking policies greatly simplifies the exporting process. This is especially helpful for companies and individuals unfamiliar with the process of international shipping. This saves precious time that a company could spend on their core business activities. Suppose that a company opts to do exports themselves instead of letting freight forwarders do it. They then need skilled labour, the latest technology and logistical infrastructure to complete the job. Partnering with a forwarder lets you do away with all these.
Frequently, freight forwarders are also custom brokers. In other words, they handle customs and other clearance procedures on behalf of the shipper.
What Are the Duties and Responsibilities of a Freight Forwarder?
Optimised negotiations
Freight forwarders give tailored advice on how to optimise transport costs, special documentation expenses, customs clearance costs and customs duties. They offer reduced transport costs by developing optimised routes. The forwarder advises on the best way to transport the goods and the most appropriate route to take. All possible factors will be considered, such as where the goods originated, where they are going, what types of goods they are, whether they are seasonal and more.
Insurance for cargo
Cargo insurance covers customers if goods are damaged or stolen. Freight forwarders can offer attractive insurance terms and conditions at competitive rates.
Packaging expertise
They can also guide proper packaging, labelling, loading and stowing of goods.
Detailed analytics
Clients and companies are given detailed reports so that they are updated on the location and movement of goods.
Tracking of goods
Forwarders use technology that allows them to track each shipment with great detail. There are also special software tools that are used to ensure that the customer is fully informed at every state of the shipment's journey. 
Customs clearance
Forwarders assist with the process of customs clearance. They aid individuals and companies in the process of preparing the extensive documentation needed to complete the import and export process.
Warehouse services
This depends on the specific freight forwarder. Some will have warehouses for storing the goods of their clients. Meanwhile, others make arrangements to store goods at a convenient warehouse located nearby that's owned and operated by a partner company.
Scheduling of cargo
This entails careful planning and coordination of cargo space. An expert forwarder will check whether it is important to consolidate cargo. They also make sure that shipments depart on time and determine whether intermodal shipping would be a viable option.
Consolidation of goods
In some cases, customers need to ship goods that do not require the use of a whole container. This is where freight consolidation comes in handy, where separate smaller shipments are packed in the same container. Freight consolidation means that all customers split the shipping cost according to the volume of their cargo.
Managing documentation for cargo export
Exporting cargo requires numerous documents. These documents can vary from country to country. These can include a commercial invoice, which provides information about the goods being shipped. Other documents may include the packing list, export shipping bill, bill of lading and insurance certificate. A hazardous cargo declaration may also be needed if the goods you're exporting fall under the hazardous cargo category. Examples of these goods are combustible solids and liquids.
Choosing a Freight Forwarder
Having the right freight forwarder on your team ensures that your supply chain is professionally managed. So how do you select a freight forwarder that best fits your needs? If you're on the hunt for a reputable forwarding company, here are some factors to consider in assessing potential partners.
Industry experience
An experienced freight forwarder can handle your shipments efficiently. They can help you manage warehousing, customs and route lines smoothly. Moreover, they can help you deal with any emergencies.
Offered services
Aim to work with a freight forwarder with expertise on multi-modal shipments or a company with a wide array of logistics solutions. However, the most important thing is to partner with a forwarder that can deliver the specific services your business requires.
Networking reach
If you require international shipping services, then you should hire a freight forwarder who can handle worldwide shipments. Select a company with strong connections in both your export and import destinations.
Customer service
Communication is key to any successful undertaking. The same goes for the shipment of goods. Your forwarding company should have tracking capabilities, provide regular updates and be available should you have questions.