KT ALB Transport provides the people of Reading with an alternative to long queues to get their parcels delivered.
The thought of having to take your package, no matter the size, to your local courier centre or post office and possibly not having any definite time scale on when your package will reach its destination is not the peace of mind you need. This is why we at KT ALB Transport have streamlined our delivery system for you!
We offer the following services: 
Same day delivery

Urgent delivery

Pre-booked delivery

Short-term and long-term delivery

Pick-up within an hour

For single delivery

For bulk and business delivery

Booking confirmation

Real-time delivery status updates
Get same-day, urgent delivery services 24/7! Get a free quote now.
More than just same-day delivery in Reading
Say goodbye to taking your packages to your local courier or post office. KT ALB Transport will pick your parcels up right from your doorstep. Bookings can be made within minutes through our website, and our driver arrives within an hour!
Our vehicles in Reading pick up and drop off packages 24/7 – whenever you need it. This method allows us to maximise productivity and achieve same-day delivery to our customers in the UK.
KT ALB Transport has a real-time tracking feature that lets you monitor where your package is. It also gives you an instant notification when your item has reached its intended destination!
For transporting furniture, appliances, and other fragile machinery, assistance in loading and unloading heavy packages is available.
Affordable, safe, reliable, and above all, fast
KT ALB Transport is versatile enough to adapt to the needs of modern, fast-paced customer needs. Instead of waiting for days for parcels arrive, KT ALB Transport can help you speed the process up.
Fast, reliable, and trusted
Established in 2015, KT ALB Transport was structured to make the same-day delivery and on-demand service possible for everyone with just a few simple steps.
To date, over 100,000 driver-partners operate a vast array of vehicles to satisfy each market's demands, including cars, vans, and trucks for deliveries of almost anything of any size. Our two-wheel vehicles are also available for fast and affordable urgent delivery solutions.
Interested in learning more? Drop us a call today!

Urgent Delivery
KT ALB Transport offers non-co-loading urgent, same-day deliveries across the country, all day every day. 
Whether your booking is last minute or critical, we have got you covered. We aim to collect your package within one hour after receiving the booking confirmation. Urgent deliveries may include small A4-sized parcels to full articulated loads. Smaller more time-critical deliveries are fulfilled through our fleet of motorcycles and smaller vans, 24/7. 
Dedicated Delivery
Get door-to-door haulage and tail lift deliveries, dedicated to you, and you alone. We do not pack your items with anyone else's, ensuring quicker delivery times. 
Available through same-day deliveries, last minute, bulk deliveries are no longer an issue. We are able to collect parcels throughout the UK within an hour, whole-year round. We have point-to-point deliveries for parcels ranging from 1kg to 29,000kg. 
Business Relocation
Large-scale business move? Our office and warehouse relocation packages might be the solution you need. 
We offer relocation services for all types of businesses in any move nationwide. We offer full office relocation services that are both secure and efficient. KT ALB Transport specialises in transporting high-level and fragile equipment and machinery for sectors including hospitality, education, and the aerospace industry. 
Our relocation service cover: 
Real-time project management

Recycling services

Disposal services

Storage solutions

Furniture solutions
White Glove Service 
We pride ourselves on providing first-class White Glove delivery services. 
For deliveries that require special attention, we recommend trying our White Glove services. Any parcel that goes through us is handled with care. But highly fragile and expensive equipment requires special handling and equipment based on the type of item. 
Simply detail the item, its weight, and any other special requirements to transfer your delivery and you're all set! 
2 Man Team
Your business relocation can be made easier by taking advantage of our 2-man team. 
Our team ensures efficiency, especially with same-day services. Our 2-man service team can be requested for the following: 
Packing and unpacking

Removal of equipment

Installation

Scheduled deliveries

Planned projects

Business relocations

White Glove services 
Specialist Installations
Our experienced team provides installation services from small furniture to large equipment. 
You may request delivery and installation services at the same time – anywhere in the UK. Specialist installations can be requested alongside: 
Same-day deliveries

Removal of goods

Relocation services 
Warehousing
We provide safe and secure locations for any equipment or parcels through our storage facilities around the UK. 
We have both short and long term storage solutions, from a week, lasting several years. Simply call us to enquire about space. 
Project Management
Our expert team provides the best in project management to get your delivery to your required destination in record time. We pay special attention to every parcel in our system through our project management system and representatives.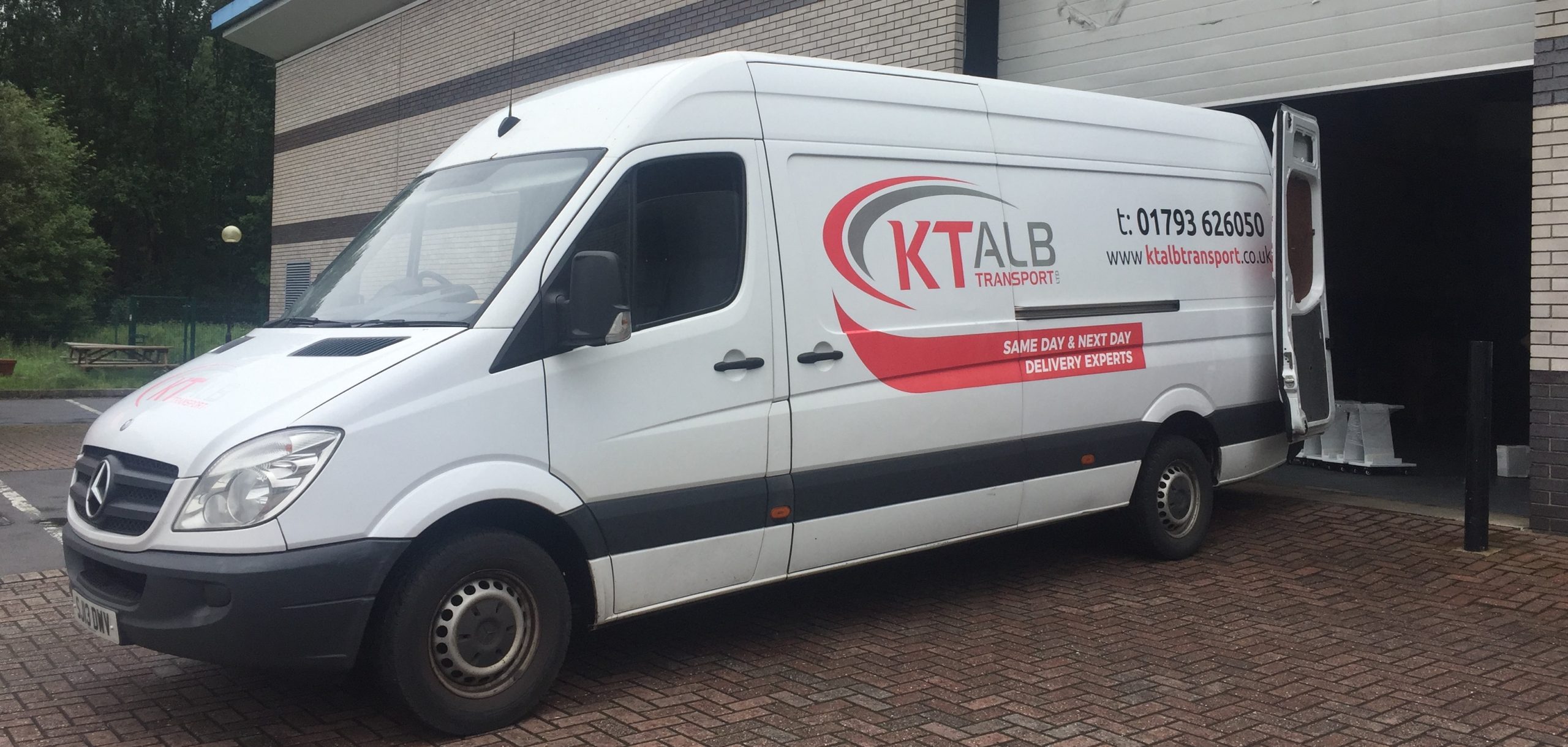 What our customers are saying
"Fantastic! Great service, superb organisation and outstanding customer service. Recommended business partner."  
"We use KT ALB Transport for our company transport needs; they provide a fantastic service throughout the UK for us, they are always on time, they provide a fantastic service & are very competitive. We would not use any other company for our delivery services, keep up the good work! You are by far the best in our opinions, thank you for the services you have provided over the last 5 years."  
"Thoroughly deserving of their 5-star rating. Very efficient service and friendly staff, kept me informed at all stages of my package delivery. Highly recommended." 
Get a Free Quote Now!
Our delivery services are available 24/7 across the UK. With a one-hour pick-up time, we provide the best in transport services. 
Why use KT ALB Transport?
We run our fleet of Vehicles 24 hours a day, 7 days a week across the whole country
We can be with you within ONE HOUR from approval to book and will deliver your goods IMMEDIATELY