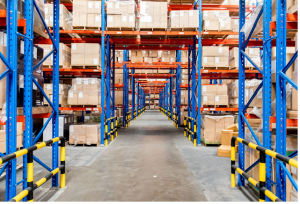 Imagine you are a business owner that requires an additional space for inventory or stock, but you do not have enough space in your current set-up. You might only need the additional space temporarily, or to get you through a seasonal period, so don't want to commit to a new lease/space to rent. Growing inventories is a sign of a growing business, which is the best scenario for most businesses, but when you don't have the means to expand, it can be challenging to keep that growth going.
Or maybe, you are a renter or homeowner whose home is too cluttered – and you need more space to accommodate your larger items and valuables.
What can you do in these situations?
This is where warehousing comes in. For warehousing solutions, keep reading this article and give KT ALB Transport a call today!
What is warehousing and its functions?
Warehousing is a method to store physical goods in a physical location. Businesses and people are able to temporarily or permanently store their items in a warehouse, while ensuring that their items are safe and secure.
Warehousing is typically used for long-term and short-term storage. It is a place where items can be delivered and stored, for a defined period of time, based on the contract or deal that you have with the warehousing company.
Smaller sized businesses generally use a warehousing system when they lack space in their shops, factories or offices. With many warehousing businesses offering flexible options based on the length of time you need, the amount of items you are storing and how often you will need to access them.
Goods can stay in the warehouse until they are either sold, moved, or you have freed up the space in your normal storage location to fit in.
Different warehousing businesses offer different technologies to gain access, monitor & manage your inventory. 24 hour access, tracking of items locations, booking in/out systems, working directly with your couriers/transport and reporting of the number of items you have are all possible if needed – you just need to find the right company for the solution you need.
Do you want a space for you to store your items? Contact us at KT ALB Transport to reserve a space in our warehouse. You can temporarily store your items here while you try to find additional space or when you don't have enough space right now.
What is the process of warehousing?
When you choose to store your items in an independent warehouse, there will be a system and process agreed with the warehousing business. This will include how you can access your items, how often, what add on services you require (shipping), where and how the items are stored, what security measures are in place and what insurances are included
Here is how it is done:
Receiving
The receiving stage can be considered to be the most important part of the start of the process.
It will be problematic if the items you put in your storage are incorrectly stored and labelled, thus needing a precise and reliable company to do the job correctly. A clear receiving process will be needed to check and record the volume and contents of the item that will be placed in the warehouse. This will also help to ensure that the items are prepared and safely stored in the proper storage areas for easy access.
Putting away the items
The people managing inventory will make a judgement on where to store the items within the warehouse – this will be based on the shape, size, and how often access to them will be required.
This stage is essential for the warehouse personnel and your company as well. It helps them with the following:
The products are stored faster and more accessible because of the proper organisation of the goods
Speed up the process of getting items from place to place and/or manage the ability to ship quickly
The safety of the goods and employees
The space of the warehouse is maximised
With proper spacing and allocation of items to the right areas, it makes things easier to search, track and receive
Storage stage
In this stage of properly storing the goods, it is placed into a space that is most appropriate for them to ensure the best possible organizational system. Either if it's better to keep it in a cooler area or a hotter area, this state offers it.
The warehouse employees also try to put your items in a section that is appropriate for the item and to maximise the space of the warehouse.
Packing
If you require a distribution service alongside a storage space, the packing process will ensure that the right items are pulled off the shelves, at the right time and are then packaged and delivered well. Warehouse employees handling your item be careful with your items to reduce damage and returns.
Shipping
Delivering the items to the correct addresses is probably the most critical part of the process. This is why warehouse solutions pay close attention to tracking their shipping movements.
What are the 4 Functions of warehousing?
Warehousing solutions don't just mean merely store your inventory for you. Here are other services offered:
Storing
As mentioned, this could be excess stock, products you are selling on, storing items for projects like office moves or even stock you are building for the big seasonal sales you offer.
Risk bearers
There are always risks when storing stock and inventory – fire, flood, theft are key risk you need to consider. Warehouses are designed to reduce these risks or eliminate them entirely and generally offer a more secure environment than you might otherwise be able to find.
Price Stabilisation
Should there be a market change in the demand or value of your product, you are able to use temporary storage to store items that you wish to stop selling until the demand/price is recovered.
Packaging and Grading
Specialist warehouses are able to package and send items in addition to storing – some are even able to directly API into your CRM systems so that there is no delay in the order to packaging to delivery process.
Are you looking for a warehousing unit?
Here at KT ALB Transport, we can arrange warehouse solutions for you to use for your company or yourself.