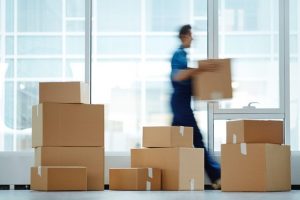 It's a common story among small business owners. They're bursting at the seams and need more office space to grow. Or they're moving into a new office building and want to make a good first impression on their new neighbours. Whatever the reason for your business move, you'll find useful information in this blog post.
It can be challenging to move your small business, but with the right planning, it can be a lot easier than you imagine. If you are planning to move your business, research locations first. Increased space needs and the desire for high foot traffic are good reasons for moving a business.
During the move, keep employees informed of updated schedules and responsibilities. In order to minimise service interruptions, keep your customers and clients in the loop as well.
There are times when it's time to move on to greener pastures for your small business, much like moving to a new home. The decision to move, whether it's to save money or to expand, is a major undertaking that requires a lot of planning.
Are you ready?
Don't ignore the importance of completing an in-depth financial and marketing analysis. There is often an opportunity to improve visibility or move to a newer building, but the cost of rent or lease will be higher. Considering whether that is a worthwhile investment requires quantitative analysis.
The best tip for moving office spaces is to make sure your business is in a position to expand before physically expanding. Ensure you have the right numbers in place and your team is ready to support the expansion. If your company expands, it does not mean you need to move into a larger space. It is great to have a vision, but going through a move is very trying. If you sign a lease, make sure that the vision turns into reality.
Although the planning and time investment was substantial, experts believed that the move was the right decision for her business.
It was well worth the minor inconveniences to have adequate storage space, higher ceilings for taller displays and the chance to rethink store design.
Open communication
Due to the temperamental nature of construction, the biggest hiccup was caused by a series of delays that prolonged the opening date.
The businesses that moved and the customers accepted the delays with grace. The announcement increased social media interaction, as people wanted to know when the store would open. Customers must be updated on how things are progressing and reminded. Moving offers a business the opportunity to grow, despite the complications.
Take advantage of a move to evaluate your bestsellers and your product. Look at how your products are selling, and see what you can expand on inventory or pivot in the areas that need it.
Make a to-do list
Keep a checklist of all the tasks you need to accomplish before you move. If you've decided that it's the right time, you should get started as soon as possible.
You should do plenty of research before choosing your moving company, as well as book their services months in advance. Likewise, start comparing quotes for a new phone line, internet connection and security system right away. Getting an idea of your budget early will help you determine whether you need to purchase new furniture or renovate the space.
In addition to setting a budget, hiring movers, reviewing lease terms, and determining if insurance is required, your checklist should cover all the logistics involved in moving your business. If equipment breaks in the move, you need insurance coverage in case the damage could hinder operations.
Be sure to keep employees and customers informed about the move through social media, newsletters, and signage at the storefront, like many companies before you have done. Inform them of the business's benefits from moving, for example, a larger space or a more convenient location. You can hire an interior designer before you move to make the most of your new space.
Update your website and Google My Business listing with your new address and contact information to keep your online presence current.
Don't forget to inform your employees too about the move. A schedule of events and a list of responsibilities should be provided to each individual involved with the move. Employees should be given plenty of notice so they can adjust accordingly.
Planning the first day is a final piece of advice. Are there going to be lots of decorations and goodies at the grand opening?
Your decision, as well as others, depends on the kind of business you run and the needs of your customers. At the end of the day, it will all be worth it to have excited customers.
Business relocation with KT ALB Transport
It is for this reason that we have become the mover of choice for many companies in their office relocation throughout the UK. At KT ALB Transport Ltd we offer business relocation and storage services with a reputation for completing moves throughout the country time after time.
With a reputation for successfully executing nationwide moves time and time again, we offer relocation services to all business sectors, which has made us the mover of choice for many companies throughout the UK when relocating their offices. For high-level equipment such as medical equipment within the aerospace industry, healthcare facilities such as clinics, hospitals and care centres, education sector relocations, hospitality moves, as well as heavy machinery items such as printing presses as well as full warehouse pallet relocations, we are experts.
For convenient office removals, whether big or small businesses, give KT ALB Transport a call!