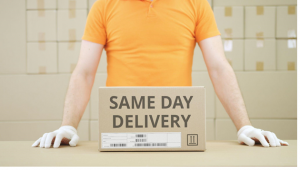 Many businesses have sprung up to meet the demand for e-commerce and online shopping as the popularity of these markets is in never ending growth. The same-day delivery industry is one of them, with speedy delivery of goods resulting in a premium being paid.
There has never been a case of higher choice for consumers, leading to lower levels of customer loyalty. It is no longer the case that consumers stick by their favourite brands no matter what the weather. Currently, customers happily switch from one brand to another and as demand grows, even those who are loyal to their existing partners, need to look for alternative delivery companies too. 
Businesses have never been more dependent on express delivery than they are today. According to one study, half of the consumers abandon their shopping cart if the delivery options aren't suitable.
As a result of consumer trends and the demand for speed, consumers now expect same-day delivery as the preferred check-out option and are willing to shop around to find this option.  By not offering a rapid delivery option, businesses miss out on a large slice of the market.
Here are a few reasons why you shouldn't be so inclined and how you can boost customer loyalty and satisfaction with same-day delivery.
Gives a Competitive Edge
With almost all companies offering free shipping, competitive pricing, and sales almost every day, it's difficult to stand out in a crowded market. Nevertheless, the ability to provide same-day delivery sets you apart from the competition.
Compared to companies that do not offer same-day delivery, companies that do can gain an advantage of over 85%.  While customers are clamouring for quick delivery, the trend is still a young one.
These trends are catching on, not only with big online retailers, but also with smaller businesses too. Today, more specialised industries like the automotive industry realize the importance of same-day delivery as a competitive advantage.
No matter what industry you operate in, your business will have a competitive edge by updating your shipping methods and showing your customers that you always strive to improve customer experience.
Builds Trust
Your business will stand out as trustworthy and reliable if it provides same-day delivery.  These services are not offered by pop-up companies looking to make a quick profit. Instead, industry leaders offer these services.
Even though same-day delivery isn't always cost-efficient, customers understand that it hasn't yet become common. In addition, if your company can provide this service, the customer will have more confidence in you. It is perceived as a trustworthy business that invests in its future.
Your chances of retaining customers increase if you have a great product and can get ahead on this curve. In a recent survey conducted by Shopify, more than double the amount of sales can be generated by businesses offering same-day delivery.
Enhances Productivity
It has been proven that offering same-day delivery increases productivity. When employees know their orders must be filled, sent out, and delivered the same day, their motivation is high. Boosting staff productivity and inspiration in the workplace is made easier by the fast-paced delivery process.  Additionally, it increases sales and revenue, which means more money is available for investment in employees.
Cost-effective
You may be able to cut costs elsewhere if you use a dedicated same-day delivery service. This means that your products are less likely to be damaged or spoilt.
In order for an express delivery service to deliver a package quickly, it must have the resources in place. We'll help you streamline your delivery process while saving money by reducing the cost of bulk shipping instead of sending out each order one by one. This takes some of the logistical burdens off the workforce and management, allowing them to focus on customer service and quality.
Even though switching to same-day delivery may seem like an increase in costs upfront, the savings you'll make from improved efficiency and customer retention will more than make up for the cost increase.
Raises Your Margins
A customer who is in a hurry to get something will be willing to pay more when they want something delivered as soon as possible.
Companies that can meet customers' demanding needs will be willing to charge higher prices. With same-day delivery, you will be able to keep your customers happy and raise your margins (within reason, of course).
According to statistics, 88% of consumers are willing to pay for same-day delivery, and 28% rate same-day delivery as their number one preference when choosing a provider. 
Reduces Losses and Breakages
It is normal to experience loss and breakages when using a regular delivery service. A dedicated same-day delivery service, however, will provide much better service.
Due to the fact that the customer receives his or her package the same day, the chance of loss of packages is greatly reduced.
Incorporating a dedicated level of delivery, together with proper insurance and tracking, will reduce losses and breakages and give you peace of mind that all shipments will arrive in good condition.
Attracts a Younger Demographic
The millennial generation is now accustomed to receiving same-day deliveries. Since their entire world is available 24/7, they demand convenience and will pay for it. Same-day delivery is an effective way to bring in loyal customers from the younger demographic.
Millennials decide whether to buy from a company that offers same-day delivery more than 30 per cent of the time. With more and more millennials starting businesses and establishing them successfully, this isn't a demographic to be ignored.
For urgent, same-day courier services, pre-booked delivery services, short-term and long-term delivery services, and for bulk and single delivery services, visit KT ALB Transport for more information.